Robots To Plumb For Deadly Mosquitoes In Ditches
Improved cameras and spraying systems in UGVs will instantly monitor infectious mosquitoes and eliminate them.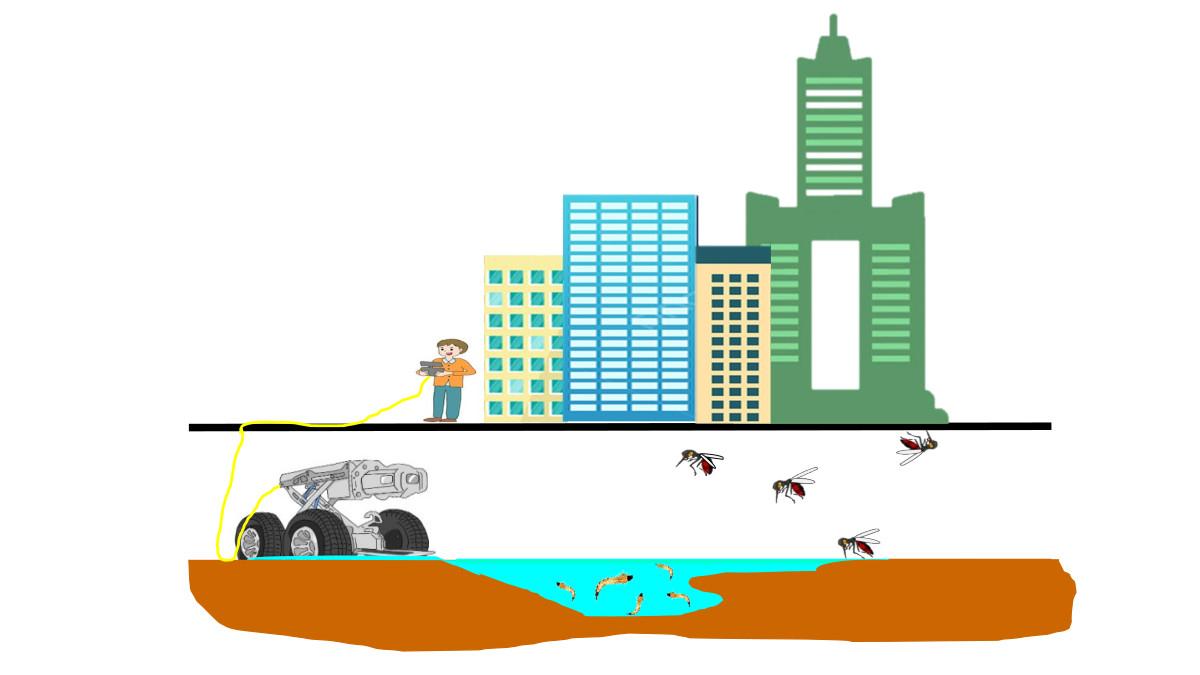 Liu et al., 2023, PLOS Neglected Tropical Diseases, CC-BY 4.0
Unmanned ground vehicles can be used to identify and eliminate the breeding sources of mosquitos that carry dengue fever in urban areas, according to a new study published this week in PLOS Neglected Tropical Diseases by Wei-Liang Liu of the Taiwan National Mosquito-Borne Diseases Control Research Center, and colleagues.
"The widespread use of UGVs can potentially eliminate some of the breeding sources of vector mosquitoes, thereby reducing the annual prevalence of dengue fever in Kaohsiung city," the authors say, according to a release.
Dengue fever is an infectious disease caused by the dengue virus and spread by several mosquito species in the genus Aedes, which also spread chikungunya, yellow fever and Zika. Through the process of urbanization, sewers have become easy breeding grounds for Aedes mosquitos and most current mosquito monitoring programs struggle to monitor and analyze the density of mosquitos in these hidden areas.
In the new control effort, researchers combined a crawling robot, wire-controlled cable car and real-time monitoring system into an unmanned ground vehicle system (UGV) that can take high-resolution, real-time images of areas within sewers. From May to August 2018, the system was deployed in five administrative discticts in Kaohsiung city, Taiwan, with covered roadside sewer ditches suspected to be hotspots for mosquitos. Mosquito gravitraps were places above the sewers to monitor effects of the UGV intervention on adult mosquitos in the area.
In 20.7 percent of inspected sewers, the system found traces of Aedes mosquitos in stages from larvae to adult. In positive sewers, additional prevention control measures were carried out, using either insecticides or high-temperature water jets.  Immediately after these interventions, the gravitrap index (GI)—  a measure of the adult mosquito density nearby— dropped significantly from 0.62 to 0.19.
"Further improving the high-resolution digital camera and spraying system of the UGVs may be able to effectively and instantly monitor vector mosquitoes and implement spraying controls," an abstract of the study affirmed. "This approach may be suitable to swolve the complex and difficult task of detecting mosquito breeding sources in urban ditches," it said.
Zika transmission has been detected in the United States in the past. According to the Centers for Disease Control, cases of local transmission of Zika were found in Florida and Texas in 2017. However, none have been detected since 2019. In late 2013, the first local transmission of chikungunya virus in the Americas was identified in the Caribbean. Chikungunya virus disease cases were reported in 2014 among travelers returning to the U.S. from affected areas in the Americas, while local transmission was identified in Florida, Texas, Puerto Rico, and the U.S. Virgin Islands. Since 2016, no locally-acquired cases of chikungunya virus have been identified in the U.S. In the case of Zika virus, most adults recover within a few days of infection, but may develop Guillain-Barre syndrome: a condition that causes significant loss of muscle strength and can lead to respiratory failure. The unborn children of pregnant women can develop microcephaly when the virus is transmitted to them in utero.
Dengue is common in U.S. Pacific territories, as well as Puerto Rico, and the U.S. Virgin Islands. According to the CDC, nearly all dengue cases reported in the 48 contiguous U.S. were in travelers infected elsewhere. Local dengue outbreaks most recently occurred in Hawaii (2015), Florida (2013, 2020), and Texas (2013).
Because the types of mosquitoes that spread dengue are common throughout many areas of the United States, local spread of dengue is possible. Most people infected with dengue recover.
Aedes mosquitoes also carry malaria and yellow fever, which have yet to be entirely eliminated outside of the U.S. Travellers from Asia, Latin American, the Caribbean, and Africa may be unwitting carriers of these diseases. Both of them can cause death. However, vaccines and prophylaxis are available. In the 1800s, yellow fever was a scourge in much of the U.S., striking as far north as Boston. According to the National Institutes of Health, no locally-acquired cases of yellow fever have been detected in the U.S. since 1905. According to the CDC, about 2,000 cases of malaria are found in the U.S. each year, but most are acquired by persons travelling from infected areas. 
A noted American journalist, George Neumayr, died while on assignment in Cote d'Ivoire in 2023 due to complications related to malaria. 
Topic tags:
robotics health science China AI Taiwan