Israel's #MeToo Stalinists celebrate their victory
Kohelet Forum, Tikvah Fund in their sights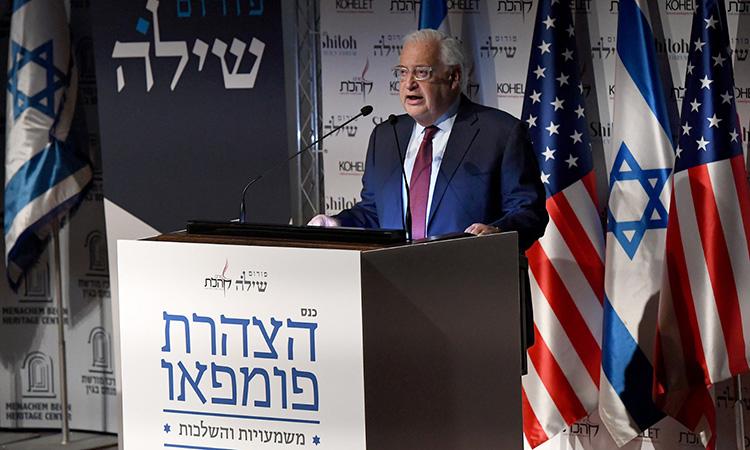 Former U.S. Ambassador David M. Friedman at the Kohelet Forum
Campaigners against Israel's Netanyahu government scored a notable victory on Aug. 4. After a six-month demonization, defamation and harassment campaign against the Kohelet Policy Forum and its chief donor, Arthur Dantchik, Dantchik, a Philadelphia businessman, announced that he was ending his support for the conservative Jerusalem think tank.
Moshe Koppel, a Bar-Ilan University professor, founded Kohelet a decade ago as a full-spectrum policy think tank. Like its opposites on the left, Kohelet has developed policies on legal reform, economics, education and welfare. Its scholars work closely with like-minded policymakers to advance their policies in government ministries and the Knesset.
In March, Kohelet became the target of a demonization campaign the likes of which Israel has never seen. Its offices were barricaded and vandalized. Its leaders were assaulted on the streets and in restaurants, and were subjected to noisy demonstrations at their homes in pre-dawn riots. Israel Defense Forces Brig. Gen. (res.) Nehemia Dagan called for the military "neutralization" of Kohelet, describing its funders as "Jews of the kind upon which the antisemitic 'Protocols of the Elders of Zion' was based."
Dantchik, whose funding enabled Koppel to establish Kohelet, was subjected to a prolonged, no-holds-barred campaign in Philadelphia.
Yaya Fink is a professional far-left political activist and failed two-time Knesset candidate. Until this year, he served as the CEO of Darkenu, a dark-money leftist pressure group that is associated with continuous efforts to oust Israeli Prime Minister Benjamin Netanyahu.
Darkenu's billionaire funder Kobi Richter proclaimed Saturday in a radio interview that the left will succeed in its anti-government campaign because it controls the military and the economy. It will destroy the economy to force Netanyahu to comply with its demands, he added.
Fink is a central figure in the anti-government campaign. He hosted an Aug. 8 Zoom conference with more than 1,000 participants to celebrate the victory over Dantchik and Kohelet. Conference speakers were key actors behind the operation.
"We cut off their oxygen"
The event opener was Eran Nissan, who leads a digital leftist outfit called "Strengthening." Nissan initiated a campaign to demonize Kohelet three years ago and his operation was the basis for the left's successful operation this year.
"If you want to understand in one word what the Kohelet Forum is, Kohelet Forum is the right's brain," proclaimed Nissan, sporting a black T-shirt with "FCKBNGVR" ("f*** Ben-Gvir," referring to Israeli National Security Minister Itamar Ben-Gvir) emblazoned in red and white.
Basking in the success of the campaign he spearheaded, Nissan bragged, "We shut off their funding, or to put it more bluntly, the brain of the right had a stroke because we cut off their oxygen."
The left's demonization campaign had done its job. "Kohelet has turned into a poisonous brand, in large part because of the protests, and very much owing to the media," said Nissan.
By demonizing Kohelet, Fink and his comrades made Dantchik embarrassed to be associated with it.
But while Kohelet has been turned into a pariah, it remains a danger because "their ideas haven't disappeared," Nissan warned. "We have to keep sharp eyes focused on Kohelet and see what happens to this whole ecosystem." He fingered the conservative Tikvah Fund, "Kohelet's big sister," as the next target.
Creating a monster
Shany Granot Lubaton, a fresh-faced, veteran far-left political operative in Israel who now works for J Street in New York, spoke next. 
Granot Lubaton organized the anti-government demonstrations in New York in May that saw expatriate Israelis ambushing, harassing and at times assaulting government ministers and senior Knesset members, who were in New York to participate in the Celebrate Israel Parade on Fifth Avenue.
Those demonstrations brought Granot Lubaton to center stage, but she has led the left's anti-government operations in the United States since February. She also organized the slander and harassment campaign against Dantchik.
In the Zoom conference, she gushed with pride. "How great is it to see so many people here who want to celebrate and hear about our victory," she said. "It's something we need to mark and revel in."
Granot Lubaton said she had identified Kohelet as "the enemy" in 2016, when she worked as a parliamentary assistant to then-opposition leader Shelly Yachimovich. "I saw how the lobbyists from Kohelet were present in every discussion against us," she said.
When anti-government protests began in Israel, Granot Lubaton saw an opportunity to go after donors who enable groups like Kohelet and the Tikvah Fund to think their "wrong" thoughts and discuss them in public.
She organized a group of leftist Israeli expatriates in Philadelphia, who demonstrated three times a week outside Dantchik's home, synagogue and offices, and at an intersection near his house.
"I had to fire them up, to bring them the light. But what can I say? I created a monster," she bragged, rolling with laughter.
Granot Lubaton's campaign against Dantchik included a full-page, derogatory ad against him in the Philadelphia Jewish Exponent. She shied away from taking credit for the ad, but proclaimed that with the ad, "We moved tectonic plates in the Jewish community of Philadelphia." 
The ad also helped "infiltrate" Dantchik's circles and persuade him that supporting Kohelet "isn't worth the trouble. He's better off walking away," she said.
Her group's success in "breaking a billionaire's soul" whet her appetite, and the next targets, she insisted, must be everyone associated with Kohelet—intellectuals and donors.
"We have a lot more work to defame them, to shame their people," she said. She added that intellectuals affiliated with Kohelet "are in all the government ministries, in negotiations rooms. And the goal remains transforming Kohelet into a brand that people are embarrassed to have on their resumes."
"I know someone who resigned from Kohelet with a top salary, because he understood it harms him professionally and he's better off not to be mixed up in this thing," she added, smiling broadly. "This is a great achievement of the protest. … And I think that this is a very important thing to do."
Donors need to see Dantchik's fate as a cautionary tale, according to Granot Lubaton. "If you give money to someone that undertakes the regime coup in Israel, we will destroy your lives," she said. "Don't mess with us."
Like Nissan, Granot Lubaton said the Tikvah Fund is next on her target list. Among its many activities, the fund translates and publishes conservative books and publishes the Hebrew-language, intellectual journal Hashiloach.
In Granot Lubaton's telling, Tikvah "funds book publishing," and it "prints the most extreme policy papers in Israel." So it must be destroyed. "We'll do everything possible to push them back and prevent them from taking Israel apart," she said.
"Like a military operation"
The next speaker was Eyal Naveh, whose Brothers in Arms group operates as the shock troops of the left's political warfare campaign. Brothers in Arms is behind most of the violent attacks on government ministers, members of Knesset, ultra-Orthodox Jews and conservative intellectuals.
The group used barbed wire and garbage to barricade Kohelet's offices in March—a criminal act that received so much support in the media that it catapulted the campaign against the think tank onto the national stage. Naveh said the assault was geared towards foreign audiences, to help demonize Dantchik.
"We planned it like a military operation. It went over great from a media coverage perspective," he said. "We knew what we wanted to accomplish." He added that the group wrote its banners in English and had English speakers on hand "because we had a clear goal of helping the people in the United States."
Naveh joined the others in proclaiming the war against Kohelet ongoing. They have already prepared a harassment campaign against Aviad Bakshi, who heads Kohelet's legal department. Justice Minister Yariv Levin credited Bakshi with helping him prepare the government's judicial reform program.
#MeToo tactics
The final speaker, Gayil Talshir, devoted her remarks to Bakshi, whom she views as a mortal danger to Israeli progressives.
Bakshi is an effective intellectual operative and the government's leading candidate to serve as the next president of the Supreme Court, she warned. Blocking his advancement is the next goal of the left's political warfare campaign, she said.
The conference placed the left's tactics under a spotlight, demonstrating that it has adopted the tactics of the #MeToo movement.
#MeToo leapt to the forefront of American public life in 2017. Previously, allegations of rape and sexual harassment, like other criminal allegations, were subject to legal review, and suspects had the presumption of innocence and the right to defend themselves against allegations in courts of law.
The #MeToo movement did away with the legal process, replacing it with ground-level punishment for its targets. #MeTwo accusers went straight from accusation to execution. The only court involved was that of public opinion. And in active partnership with the media, #MeToo activists ensured that anyone targeted for destruction was destroyed.
Guy Rolnik, editor of the economics magazine The Marker, paid homage at the conference to Granot Lubaton and her followers in Philadelphia. 
They realized there are better targets than politicians and understood that to destroy their political opponents, they had to destroy the latter's ideas, according to Rolnik. So, they went to the source—the man whose funds enabled the right to produce and advance its ideas.
"Here you have a strategic understanding that there's one person, a billionaire, who funds a great part of this process," said Rolnik.
#MeToo's targets were accused of committing actual crimes. Fink and his apparatchiks aren't accusing Dantchik, the Kohelet Forum, the Tikvah Fund, academics, intellectuals and journalists on the conservative side of Israel's ideological divide of doing anything illegal.
But he and his gang are targeting the right's intellectual base for professional, social and financial destruction, because they dare to think, discuss and advocate on behalf of thoughts and ideas with which Fink and his comrades cannot contend intellectually.
Far from being guardians of Israeli democracy, Fink and his comrades are Stalinists. The goal of their campaign is to impose a thought police on Israel. They want all Israelis engaged in public affairs to either side with them or be silent. To this end, they impose a regime of intellectual, social and financial terror on Israeli public life.
Kohelet is far from their only target. Fink and his comrades have made massive advances in the universities, where faculty and students who support the government now live in a state of constant terror lest they be fired or failed by the commissars who run Israel's academia.
In the Israel Defense Forces, career officers are similarly intimidated. Physicians and surgeons have joined the expanding list of professionals being subjected to intimidation and harassment by Fink and his comrades. Fink began the conference by hailing an earlier victory over the Bar Association.
On its surface, Fink's conference was a victory lap. But in reality, it was a victory feast—on the entrails of his and his supporters' prey, planning their next kills on their journey towards building their Stalinist utopia. There, only "the right views" will be permitted in Israel, which of course means leftist views.
"The protest isn't the goal," Fink proclaimed, closing the conference. "The protest is a tool for implementing a world view. We're in the process of building infrastructures for the long haul."