George Washington University On Notice For Allowing Campus Antisemitism
StandWithUs files Civil Rights complaint against university for abetting antisemitic professor on campus.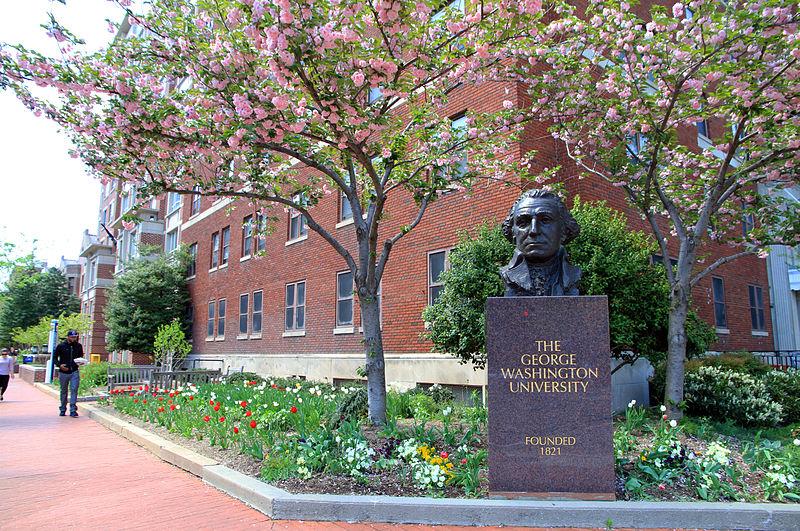 GWU Campus via Wikipedia Commons
Incidents of antisemitism and campus environments hostile to Jews have increased in recent years, but have been increasingly highlighted and resisted by human rights advocates, including StandWithUs: a non-profit that fights antisemitism and challenges misinformation about Israel.
StandWithUs filed a complaint today under Title IV of the Civil Rights Act of 1964 alleging that the Professional Psychology Program at George Washington University (GWU) has engaged in creating a pervasively hostile and discriminatory environment for Israelis and Jews on campus. Professor Lara Sheehi, who facilitates the program's mandatory diversity training, was identified specifically in the complaint.
GWU is based in Washington, D.C. and is a private, federally-chartered institution of higher learning.
According to StandWithUs, Sheehi repeatedly targeted GWU Jewish and Israeli students in November 2022 during the diversity course, disparaging and attacking their Jewish and Israeli identities and encouraging others in the Program to do likewise. The complaint says that Sheehi, a co-author of Psychoanalysis Under Occupation: Practicing Resistance in Palestine, for instance invited a lecturer who used familiar racist, antisemitic tropes about the supposed dishonesty and nefarious influence wielded by Jews.
The complaint also alleged that the guest lecturer in question also showed support for violence against Israeli people.
"A professor singling out and targeting Jewish and Israeli students for adverse treatment because of their identity is textbook antisemitic discriminatory conduct," said StandWithUs CEO Roz Rothstein.
"George Washington University has failed to provide adequate protection for the Jewish and Israeli students seeking redress from Professor Sheehi's persistent antisemitic bigotry," said Rothstein, "in and out of the classroom."
According to StandWithUs, officials at the private institution failed to recognize students' fears and instead enabled Sheehi to retaliate against them. By failing to heed the students pleas for help, StandWithUs attorney Yael Lerman said George Washington University "has violated its obligations under Title VI of the Civil Rights Act" while permitting "institutionalized" antisemitism.
Sheehi deflected complaints from students, claiming that their fears of antisemitism were misplaced, while she also accused Jewish students of assailing other identity groups. The complaint asserts that no other group was mistreated likewise. Only Jews and Israelis were treated in a discriminatory manner and deprived of the opportunity to define their own identity.
When the Jewish students brought Sheehi's disparaging and differential treatment of Jews and Israelis in her classroom to the attention of university administrators, Sheehi retaliated against the most vocal students by slandering them and subjecting them to unwarranted disciplinary proceedings.
Moreover, the complaint says GWU did not protect students from retaliation but instead enabled retaliation against them to proceed without any investigation into their merit.
StandWithUs is calling on GWU to address its "egregious bigotry and negligence" as follows:
Reverse all punitive and retaliatory measures taken against the Jewish students who expressed concern about a hostile educational environment created and fostered by Sheehi;
Offer those students an alternative professor or accommodation to fulfill program requirements that take them out of Sheehi's orbit and influence;
Open a full and immediate investigation into all student complaints about antisemitism by Sheehi, and take all appropriate remedial action;
Institute mandatory bias and sensitivity training for all students, faculty, and staff in the Program; and
Adopt the IHRA Working Definition of Antisemitism and require that members of the Program utilize it when evaluating claims of anti-Semitism both in and out of the classroom.
"The case against George Washington addresses a particular egregious allegation of antisemitism. The hostility shown is so venomous precisely because the green light for antisemitism in America is ever brighter. We risk being blinded in the United States with an explosion of anti-Semitic outrages and even official actions as so many countries have descended to in prior generations across history," said author and historian Edwin Black.
Referring to the infamous events in Germany in November 1938 known as the Night of Broken Glass, when Jews were murdered and homes, synagogues, and businesses ransacked by mobs of Nazis, Black warned in an interview that "hate centers such as at George Washington University bring us that much closer" to a similar catastrophe. Black is the author of IBM and the Holocaust and host of The Edwin Black Show. He has written extensively in the past on campus antisemitism, the Holocaust, and racist eugenics.
Carly Gammil of StandWithUs said the failure of GWU to take corrective action is "unacceptable."
Saying that Jews on campus are subjected to gaslighting and false claims that raise self-doubt and allay concerns about bigotry, Gammill said, "Jewish and Israeli students deserve the same level of respect and consideration as all other minority groups when they report cases of bigotry and discrimination."
Topic tags:
racism Antisemitism academia Washington DC Judaism Israel